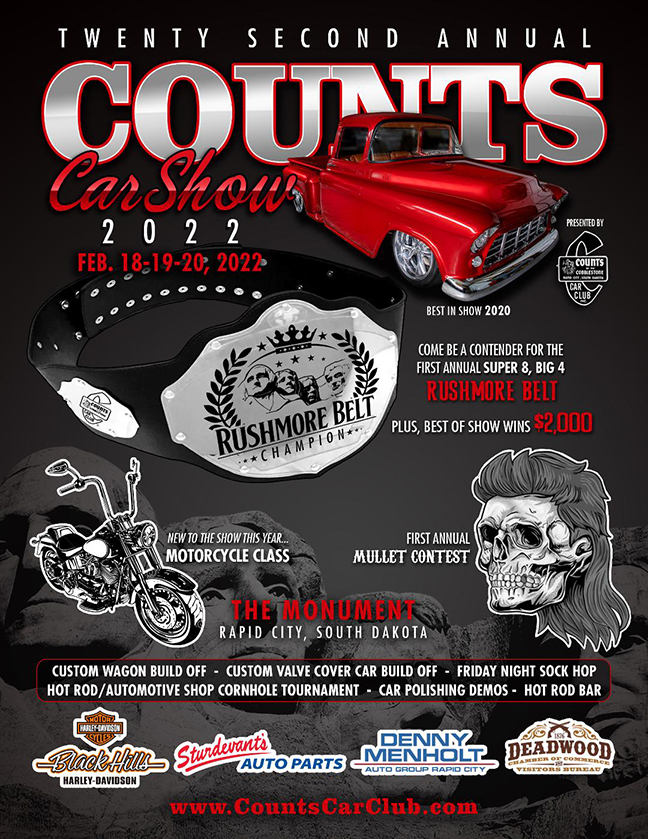 Admission
Ages 0-5 - Free
6-12 - $6
13+ $12

Get ready for an amazing 22nd Annual Counts Car Show! You will be surprised at the changes coming!!! Coming to the Monument February 18th-20th, 2022. Entry form can be found below.

Schedule of Events:

Friday
Sock Hop - 6pm

Saturday
Valve Cover Races - 11am
Mullet Contest - 4pm
Awards - 6pm

Sunday
Raffles - 4pm

Attention Vendors:
Vendor spaces are available for the 22nd Annual Counts of the Cobblestone Car Show in February, 2022. It is never to early to get that prime spot. For Vendor information, or to make reservations please contact:
Tommy Relf @ 605.484.9586

The 2022 Car Show entry form can here
*note - the awards are Saturday at 6pm, NOT at Noon like the registration form says*
Please click the link below for the vendor contract.

22nd_sponsor_list.pdf


Special Notes:

In the last few years the Counts of the Cobblestone have implemented a the very successful "Take a Kid to the Car Show" program that many do not see. I would like to bring it in to the lime light this year, by thanking many of our local business, car enthusiasts, and our club members for their donations. Donations not only of money, but their time and hard work, in making the "TAKE A KID TO THE CAR SHOW" happen.
Take a kid to the car show, is a program that was started by a club member. This program helps afford those individuals, who may have never been to a car show the opportunity to attend.
This year is just as important as the last.
Donations to "Take a kid to the Car Show"
are being accepted at any time, feel free to contact the Counts of the Cobblestone to make a donation.
---

A discounted rate for the Counts Car Club is available at Holiday Inn Rapid City - Rushmore Plaza, Rapid City, SD.
Reserve your room today:
1. Call 844-516-6415 anytime. Reference Counts Car Club or group code CCC
2. Follow this link to reserve online: Counts Car Club
Want more time in the Black Hills? Extend your stay up to three days prior and three days after at the same rate (based on availability)